HD
Son of Sardaar Af Somali
Returning to his parents' village, a man becomes the latest target in a long-standing family feud.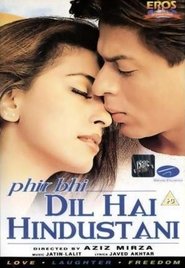 HD
Phir Bhi Dil Hai Hindustani
Rival news-reporters, Ajay Bakshi (Shahrukh Khan), and Ria Bannerjee (Juhi Chawla) engage in a comic war to be the first to interview notorius M.K. Sharma (Bharat Kapoor), in which Ria succeeds. Then the two are thrust in a battle for their lives as they must decide whether to save an innocent terrorist (Paresh Rawal) from being hanged, or sacrifice their ...
HD
Darr
A woman is caught between one man's love and another man's obsession. She fears one and fears for the other. One stands for love and the other for life. Who will she choose?